"Shift Your Power: Advancing from Transactional Practices to Progress" is a guided series to inspire participants to reevaluate, reallocate and reimagine power to focus on the mission, vision, and alignment of the those most impacted by historic and current power imbalance. Sessions will offer clear connections between dimensions of power and strategies to begin intentionally shifting power for more equitable outcomes.

These human-centered conversations will help participants identify and deconstruct inequitable mental models, while receiving tools to achieve more equitable outcomes. Participants will dig into practical case studies, hear from subject matter experts, and have an opportunity to share their own experiences with peer to peer support.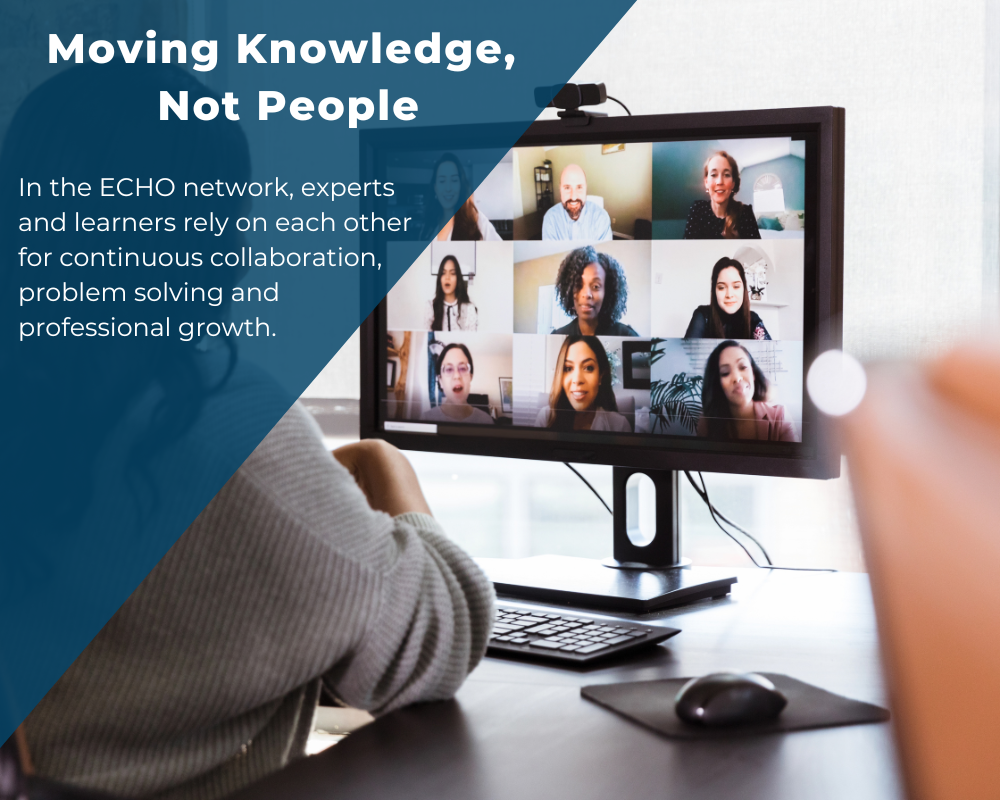 SUCCESS SESSION
Gather Your People: Relational Infrastructure for Equity in Action
February 21, 2023
SESSION 1
Knowledge is Power: Examining the Systemic Throughline from Root to Reality
February 28, 2023
SESSION 2
Power in People: Mitigating Performance to Expand Possibilities and Potential
March 7, 2023
SESSION 3
Power on Purpose: Strategies for Engaging Community Leadership with Intention
March 14, 2023
Register Today
This Project ECHO offering will have ASL available. A Spanish centered ECHO will be offered in the Spring 2023.
SERIES SUCCESS SESSION
Gather Your People: Reinforcing Relational Infrastructure for Equity in Action
Session Overview: This foundational connection will focus on strategies to support maximizing your equity infrastructure and your ECHO experience. This session is design to anchor all participants with clear definitions, foundational content, and supportive tools to reinforce relational infrastructure required to collectively shift power.
ECHO SESSION 1
Knowledge is Power: Examining the Systemic Throughline from Root to Reality
Session Overview: Inequities are systemic, patterned, unjust and avoidable and it's well-documented that power relationships are unequal and one of the primary reasons for the conditions and problems our communities face. However, they are not traditionally well understood nor considered at the forefront and throughout public health equity efforts. To permanently transform conditions to ones that communities deserve requires building collective power and getting a deeper perspective of how inequities were created in the first place. To achieve equity as an outcome calls for examining power imbalance from the root to the current reality to be better equipped to consistently recognize and redistribute power with a more systematic understanding of equity as a process.

ECHO SESSION 2
Power in People: Mitigating Performance to Expand Possibilities and Potential
Session Overview: A strong base of those most impacted by the problems and conditions we seek to change is critical to transformation but can be difficult within organizational culture that does not support human-centered ways of being and doing. To elevate from transactions that appear performative, and shift to transformational practices that lead to progress, demands building trust with truth and transparency. Allocating time and funding to build relationships beyond the surface can feel as if it lacks value because it's not a practice typically honored in organizations. However, building these bridges allows recognition of individual and collective power needed to imagine more possibilities and reach higher potential.

ECHO SESSION 3
Power on Purpose: Strategies for Engaging Community Leadership with Intention
Session Overview: Understanding that inequities are rooted in injustice, social justice advocates have long understood that a core strategy to achieving health equity is building power in communities that have been most disenfranchised by top-down social, economic, and political influence. Community power building leaders and organizations have the insight and wisdom needed to lead transformational change. Going beyond sharing power to intentionally shifting it to those who are the experts of their experiences is thinking outside of the box we continue to check with traditional engagement strategies. Those closest to their problems and pain are also closest to their solutions and joy. Often, they are simply lacking access to opportunities and resources due to historical and contemporary injustices keeping power imbalance and its byproducts in place.

Peer to Peer Connection
Project ECHO (Extension for Community Health Outcomes) centers the experience of the participants gathered. You can expect to leave with new connections, awareness of what your peers are implementing and motivation to move together in addressing COVID-19 health disparities.
Stay Connected
Having trouble registering? Let us know at

[email protected]
_________________
COVID-19 Health Equity Project ECHO Consultant Team
This Project ECHO is supported by funds made available from the Centers for Disease Control and Prevention, Center for State, Tribal, Local and Territorial Support, through cooperative agreement OT18-1802, Strengthening Public Health Systems and Services Through National Partnerships to Improve and Protect the Nation's Health award #6 NU38OT000303-04-02.
ECHO® collects registration, participation, questions/answers, chat comments, and poll responses for some teleECHO® programs. Your individual data will be kept confidential. These data may be used for reports, maps, communications, surveys, quality assurance, evaluation, research, and to inform new initiatives.